There was something off about the recent flooding of Google Pixel 3 XL leaks, all over the Internet. Like all the close-up shots and box images seemed too good to be true. It appears our suspicions were not entirely baseless. According to 9to5Google, a batch of stolen Google Pixel 3 XL "near production" devices are being sold on the black market for $2,000 each.
Google Pixel 3 XL Already Available On Black Market For $2,000
Behind all this is a Ukranian gentleman, previously responsible for releasing the hands-on Pixel 3 XL video. According to his Telegram bio, Luchkov is part of Wyslacom Media that apparently leaked out high-resolution images of Pixel 3XL.
To buy the earlier version of the phone, Luchkov directs you to another Telegram users who allegedly possess these Pixel 3 Xl 64 GB devices in England.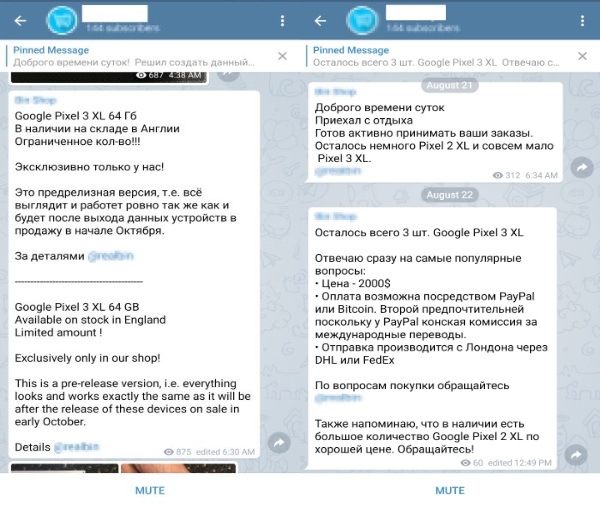 According to the last one-on-one conversation between the 9to5Google reporter, the seller has only three pieces of Google Pixel 3 XL and asks to pay only via PayPal or Bitcoin.
As of now, there is no information on how many Pixel 3 XL devices have been stolen or whether these sellers are genuinely selling Pixel 3 XL.
But since all the leaks have been uniformly coming from Russia, it appears that many alleged Pixel devices have already been sold. In any case, it is advisable not to follow these trails since there is no assurance whether these people will ship you any of device or not. Even if they do, the delivered product might be something else entirely. It goes without saying that it's illegal as well.
The teams responsible for security at the tech giant Google and Foxconn -the plant where the device is assembled- are already having conversations regarding the leaks, presumably in order to clarify the trigger of this situation. The reality, is that the damage is already done for a launch that will be made on October 4.
So, what do you think about this? Simply share all your views and thoughts in the comment section below.